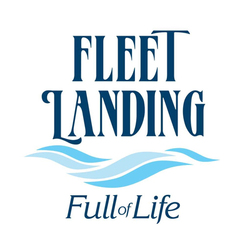 Fleet Landing
Maintenance Technician
Sorry, this job has expired.
Jacksonville, FL
Make Fleet Landing the next chapter in your career story! As we continue to expand, we are able to offer exciting and rewarding career opportunities in Jacksonville Florida.
Our Opportunity:
We are seeking Maintenance Technicians whose primary responsibility is to perform routine maintenance and repairs on resident units/homes, building and equipment to include light plumbing, electrical, and mechanical.
Our Story:
Fleet Landing is already Northeast Florida's most desirable senior living community. And now, we're adding even more independent living and supported living residences with our exciting North Point expansion. Innovative thinkers and doers thrive here and help us remain relevant in ever-changing times. We invite you to consider making Fleet Landing the next chapter in your career story!
WELLInspired™ Benefits:
Our residents deserve the best, and so do you!
We offer extraordinary employee benefits in addition to meaningful work, enriching community and a competitive salary! Full-time benefits include uncapped PTO accrual from day 1, onsite fitness center, 401k retirement plan with generous employer contributions, 90% of medical premium costs employer paid, plus scholarship and continuing education opportunities.
Learn more about us here:
Find a career at Fleet Landing, and you can add depth and meaning to your story beyond what you can imagine.
Key Responsibilities:
Lighting: hang ceiling fans, troubleshoot lighting fixtures, exit lights, overhead lights, fluorescent lights, emergency and nurse call lights; replaces burned out light bulbs and performs routine cleaning in high visibility areas.
HVAC: filter changing maintenance.
Doors/Cabinets/Storage: Troubleshoot door hardware (doorknobs, hinges, locks), adjust cabinet doors or drawers to ensure proper opening/closing, install basic shelving (wire shelving primarily).
Install TV mounts and TVs.
Kitchen/Bathroom: Trouble shoot faucets (no installation), install grab bars, caulk voids or seams as necessary.
Assists with routine maintenance and repairs on equipment. We will provide any additional on-the-job training and mentoring as needed.
Keeps work areas free of hazardous conditions, grease or oil spills and excess supplies. Follows Universal Precautions practices when performing maintenance procedures. Follows established fire safety policies and procedures. Disposes of refuse daily in accordance with established sanitation procedures.
Qualifications:
• High school diploma or GED
• Some training in minor repairs of plumbing, electrical and mechanical equipment.
• Maintenance experience / Punch List experience preferred.
• Communicates effectively, both orally and in writing
Work Hours:
FT 10:30AM - 7:00PM, 5 days per week, 40 hours, Wednesday thru Sunday - or - Thursday thru Monday
About us:
Fleet Landing is consistently rated one of the best continuing care retirement communities (CCRCs) in Florida, integrity and passion drive us to be extraordinary. Since our beginnings in 1990, our dynamic and purpose-driven community has become a place where excellence abounds. No one offers a senior living community quite like Fleet Landing. From pristine campus to luxury healthcare environments to extraordinary dining experiences, our commitment to excellence in hospitality is found in every detail. There's nothing we won't do to support the successful aging of those who live here.
Fleet Landing North Point will bring 128 new Independent Living Residences including 30 new skilled nursing beds, and with our latest expansion: 38 new private Assisted Living residences to our thriving community!
Make Fleet Landing Continuing Care Retirement Community in Atlantic Beach, Florida the next chapter in your career story. Apply Today for consideration.
We are an Equal Opportunity Employer.
yl9wjslogytp
124207979