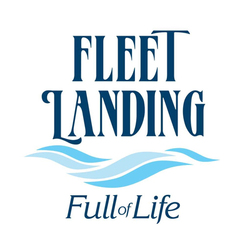 Accounting Clerk
Atlantic Beach, FL
Make Fleet Landing the next chapter in your career story! We are growing and have an exciting and rewarding career opportunity for an Accounting Clerk.
Our Story:
Integrity and passion drive us to be extraordinary. Since our beginnings in 1990, our dynamic and purpose-driven community has become a place where excellence abounds. No one offers a senior living community quite like Fleet Landing. From pristine campus to luxury healthcare environments, to extraordinary dining experiences, our commitment to excellence in hospitality is found in every detail. There's nothing we won't do to support the successful aging of those who live here.
Your Opportunity:
We are seeking an Accounting Clerk (Fixed Assets/Billing/Accounts Receivable) whose primary responsibility is being in charge of recording the cost of newly-acquired fixed assets, tracking existing fixed assets, and accounting for the disposition of fixed assets. You will also be in charge of processing all aspects of Accounts Receivable and providing statements of accounts for our Independent Living Residents.
WELLInspired™ Benefits:
Our residents deserve the best, and so do you. We offer generous benefits in addition to meaningful work, an enriching community, and a competitive salary. Full-time benefits include a generous 401(k) match, 90% of medical premium costs employer paid, uncapped PTO accrual from day 1, and extraordinary scholarship and continuing education opportunities.
Find a career here, and you can add depth and meaning to your story beyond what you can imagine.
• High school diploma or GED

• 2 years of accounting/record keeping experience
• 2 years experience of delivering premiere customer service

• General knowledge of accounting systems software
• Intermediate knowledge with Spreadsheets/MS Excel
• Knowledge of Fixed Assets Accounting highly preferred
• Knowledge of Billing/Accounts Receivable preferred
• Professional communications skills

Fixed Assets Accounting:
• Utilize accounting software to record fixed asset acquisitions and dispositions.
• Reclassify fixed assets from WIP to depreciable assets.
• Track and update the detailed schedules of company expenditures for WIP upon purchase and reconciliation to the general ledger.
• Prepare for review and file the annual Tangible Property Tax return.

Accounts Receivable and Billing:
• Utilize accounting software to setup and maintain accounts for Independent Living Residents for monthly billing and automatic debits.
• Set up new billing codes for Atlantic Club members.
• Confirm all departments have submitted billing data.
• Maintain credit forms.
• Enter and post cash receipts and all ancillary billing.
• Print and distribute monthly resident statements.
• Assist residents with questions about their monthly billing statement and make changes if needed.

• Monday–Friday, 8:30am-5pm

We invite you to make Fleet Landing the next chapter in your story—and give your life new meaning. Apply today and tell us why Fleet Landing is where you want to write the next chapter in your life!

We are an Equal Opportunity Employer.

7150584