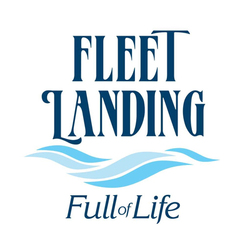 Activites Assistant - Friday / Saturday
Sorry, this job has expired.
Atlantic Beach, FL
Make Fleet Landing Continuing Care Retirement Community in Atlantic Beach, Florida the next chapter in your story. We have an amazing career opportunity for you!

OUR STORY:
Fleet Landing is consistently rated one of the best continuing care retirement communities (CCRCs) in Florida, integrity and passion drive us to be extraordinary. Since our beginnings in 1990, our dynamic and purpose-driven community has become a place where excellence abounds. No one offers a senior living community quite like Fleet Landing. From pristine campus to luxury healthcare environments, to extraordinary dining experiences, our commitment to excellence in hospitality is found in every detail. There's nothing we won't do to support the successful aging of those who live here.

"Fleet Landing Supported Living" currently has over 140 healthcare beds including a post-acute unit, long-term care, assisted living, and memory care. Our latest expansion, Beacon Pointe at Fleet Landing, will bring 128 new Independent Living Residences including 30 new skilled nursing beds, and 38 new assisted living to our thriving community!


YOUR OPPORTUNITY:
We are seeking an Activities Assistant (part time, Friday & Saturday) whose primary responsibility is assisting in planning monthly calendars and events; banquet event orders related to events; delivery of activity programs as planned including group and individual activities for our Residents. Ensures compliance with all legal and company guidelines.


WELLInspired™ EMPLOYEE BENEFITS:
Our residents deserve the best, and so do you. We offer generous benefits in addition to meaningful work, enriching community and a competitive salary. Full-time benefits include a generous 401k match, 90% of medical premium costs employer paid, uncapped PTO accrual from day 1, and extraordinary scholarship and continuing education opportunities.

Learn more about us here:


• High school diploma or College degree preferred.

• Minimum of one (1) year in social, recreational, or dependent care environment.
• Assists with planning monthly activity calendar, which provides purposeful activities, suited to the Resident's needs and interests. Plans, prepares and implements activities of unit assigned during scheduled working hours.
• Listens and responds to the needs of the Residents.
Maintains and updates one to one documentation sheets weekly for residents on one to one program. Encourages Residents to participate in all manner of activities, transports residents to and from events.
• Assists with delivery of newspapers and mail.
Maintains the administrative assistant desk during the administrative assistant's lunch breaks.
• Operates activities van for trips and outings, accompanies resident on facility outings. Secures all necessary supplies and equipment for safe and effective activities.
• Maintains a calm, stable manner at all times; and a clean, straightened, well-organized, safe activity area and office.
• Attends in-service trainings and meetings as required by the facility. Ensures adherence to stands and legal regulations.
Friday & Saturday: 8:30am-5:00pm


We are an Equal Opportunity Employer.

We invite you to make Fleet Landing the next chapter in your story — and give your life new meaning.

Innovative thinkers and doers thrive here and help us remain relevant in ever-changing times. We're now the first Continuing Care Retirement Community in the nation with a food truck, and the first to launch a community bike share program. Want to help us shape the future of senior living? We've got a place for you.

Apply today and tell us why Fleet Landing is where you want to write the next chapter in your life!

19630