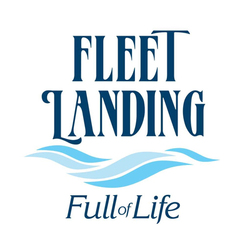 Emergency Medical Technician EMT / Security Officer
Sorry, this job has expired.
Atlantic Beach, FL
Make Fleet Landing Continuing Care Retirement Community in Atlantic Beach, Florida the next chapter in your story and give your life new meaning. We have an amazing career opportunity for you!

OUR STORY:
Fleet Landing is consistently rated one of the best continuing care retirement communities (CCRCs) in Florida, integrity and passion drive us to be extraordinary. Since our beginnings in 1990, our dynamic and purpose-driven community has become a place where excellence abounds. No one offers a senior living community quite like Fleet Landing. From pristine campus to luxury healthcare environments, to extraordinary dining experiences, our commitment to excellence in hospitality is found in every detail. There's nothing we won't do to support the successful aging of those who live here.

"Fleet Landing Supported Living" currently has over 140 healthcare beds including a post-acute unit, long-term care, assisted living, and memory care. Our latest expansion, Beacon Pointe at Fleet Landing, will bring 128 new Independent Living Residences including 30 new skilled nursing beds, and 38 new assisted living to our thriving community!


YOUR OPPORTUNITY:
We are seeking an EMT / Safety and Security Officer whose primary responsibility is to protect the property of Fleet Landing and provide a safe and secure environment for the Residents and staff. Respond to Resident medical emergencies and deliver basic care, support, and triage for emergency transport in a home setting. Report all safety and security hazards. Enforce and conduct all Safety and Security policies and procedures.


WELLInspired™ EMPLOYEE BENEFITS:
Our residents deserve the best, and so do you. We offer generous benefits in addition to meaningful work, enriching community and a competitive salary. Full-time benefits include a generous 401k match, 90% of medical premium costs employer paid, uncapped PTO accrual from day 1, and extraordinary scholarship and continuing education opportunities.

Learn more about us here:


• High school diploma or equivalent.

• EMT work experience is required.

• CPR certified
• EMT certification
• Basic knowledge of computer applications

• Reports the response to emergency medical aid to Residents and staff as needed. Triages (CPR/Basic Life Support; basic dressings and stabilization; prompt activation of EMS if required) emergency calls.
• Collaborates with the Nurse on Call to assess Residents if necessary; either in-person, over the phone, or virtually via the internet.
• Patrols, inspects and secures the property, apartments, homes, all parking areas and walkways. Notifies the appropriate departments to assist the Residents or staff (Plant Operations, Housekeeping, etc). Communicates with Staff team – detailed incident reports, referrals for follow up as indicated. Monitors all access control points. Secures and unsecures all doors in accordance with the policies and procedures of Fleet Landing.
• Conducts foot and vehicular patrols in accordance with the established policies and procedures. Conducts the Time Keeper Guard Tour System. Monitors, observes and conducts the following duties at the Welcome Center: monitors the center fire panel, Emergency Call system, CCTV cameras, phone calls incoming and outgoing, monitors and dispatches via two-way radio, and checks in all visitors and vendors. Assists Sales and Marketing in setting up the golf carts, opening and securing the model homes.
• Enforces the Fleet Landing rules and regulations with the utmost customer service orientated demeanor. Notifies the Safety and Security Supervisor and/ or Manager of critical incidents as outlined within the policies and procedures.
• Communicates supportively and effectively with Residents and Families when responding to an Independent Living Resident emergency and/or family/POA notification if necessary.


We offer 8 hour shifts; currently recruiting for overnight shift! 11:00PM-7:00AM


We are an Equal Opportunity Employer.

Innovative thinkers and doers thrive here and help us remain relevant in ever-changing times. We're now the first Continuing Care Retirement Community in the nation with a food truck, and the first to launch a community bike share program. Want to help us shape the future of senior living? We've got a place for you.

Find a career here, and you can add depth and meaning to your story beyond what you can imagine.

Apply today and tell us why Fleet Landing is where you want to write the next chapter in your life!

19627