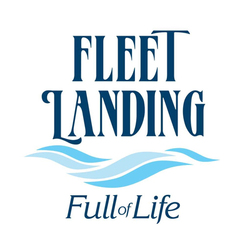 Fine Dining Servers
Sorry, this job has expired.
Atlantic Beach, FL
Are you looking to write the next chapter in your career story?!
We are seeking Fine Dining Servers to be part of our front of house team at our fine dining and cutting-edge restaurants! Fleet Landing's culinary team sets a high bar. Meals here are occasions for our members to socialize with others, enjoy the camaraderie of living in community and experience new flavors.
Our Story:
Integrity and passion drive us to be extraordinary. Since our beginnings in 1990, our dynamic and purpose-driven community has become a place where excellence abounds. No one offers a senior living community quite like Fleet Landing. From pristine campus to luxury healthcare environments, to extraordinary dining experiences, our commitment to excellence in hospitality is found in every detail. There's nothing we won't do to support the successful aging of those who live here.
Your Opportunity:
Fine Dining Servers responsibility is to serve at 30 North with a higher degree of service, wine & culinary knowledge. Our dining concepts include: 
30 North Restaurant is a fine dining environment that showcases culinary excellence with an emphasis on presenting fresh local ingredients in an artistic and refined manner. 30 North will entertain residents and guests for dinner five nights a week featuring chefs flight menus, imaginative ammuses, wine paired entrees, and freshly prepared decadents from our pastry chef. As a member of this 30 North team you will be able to sharpen your skills working alongside passionate culinarians while under the mentorship of the Chef de Cuisine.
You'll feel it the moment you arrive — that warm and welcoming vibe. People wave and greet you by name. It's simply the way we are. And no matter what your role is on our expansive campus, from Healthcare to Culinary / Food & Beverage to Maintenance, you are a cherished member of the Fleet Landing family!! Our core values bring everyone together into a unified team to serve our residents.
Innovative thinkers and doers thrive here and help us remain relevant in ever-changing times. We're now the first Continuing Care Retirement Community in the nation with a food truck, and the first to launch a community bike share program. Want to help us shape the future of senior living? We've got a place for you.
Learn more about us here:
Find a career here, and you can add depth and meaning to your personal story beyond what you can imagine.
WELLInspired™ Benefits:
Our residents deserve the best, and so do you. We offer generous benefits in addition to meaningful work, enriching community and a competitive salary. Full-time benefits include a generous 401k match, 90% of medical premium costs employer paid, uncapped PTO accrual from day 1, and extraordinary scholarship and continuing education opportunities.
We offer a unique work environment... filled with great stories and storytellers, Fleet Landing can truly change the story of your life!
Qualifications:
High school diploma or GED (preferred)
One (1) year of experience working in a fine dining restaurant or similar food service establishment.
Specialized skills and education as needed for position level.
On-the-job training and orientation will be provided.
Responsible for the sanitary and safe handling of food, beverages and equipment. Adheres to established infection control policies and procedures.
Professional communications skills. Must be able to follow verbal and written directions. Able to deliver premiere customer service.
Work Hours - Variety of shifts - both full time and part time:
Fine Dining Servers (Tuesday-Saturday) 12:30pm-9pm
Fine Dining Host/Hostess (Tuesday-Saturday) 12:30pm-9pm
Lead Bartender (Tuesday-Saturday) 12:30pm-9pm
Culinary Services Attendant (3.5 days work schedule) 7am-5:30pm
We are an Equal Opportunity and Drug Free Employer.
We invite you to make Fleet Landing the next chapter in your career story — and give your life new meaning. Apply today and tell us why Fleet Landing is where you want to write the next chapter in your life story!
48880840