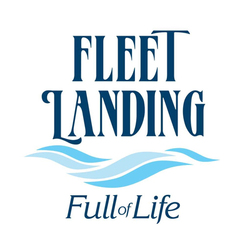 Janitorial Porter / Floor Technician
Sorry, this job has expired.
Jacksonville, FL
Make Fleet Landing the next chapter in your career story! As we continue to expand, we are able to offer more exciting and rewarding career opportunities in Jacksonville Florida.
Complete this quick apply. Interview instructions will be sent -- We've got a place for you!
Our Opportunity:
We are seeking Janitorial Porter / Floor Technicians for our senior living resident community in Atlantic Beach Florida. Qualified candidate will have excellent communications skills with a high degree of service orientation and excellent work ethic. Responsible for cleaning and maintaining assigned areas.
WELLInspired™ Benefits:
Our residents deserve the best, and so do you. We offer generous benefits in addition to meaningful work, an enriching community, and a competitive salary. Full-time benefits include 401(k) retirement program with a generous employer match, 90% of medical premium costs employer paid, uncapped PTO accrual from day one, and extraordinary scholarship and continuing education opportunities.
Learn more about us here:
Find a career at Fleet Landing, and you can add depth and meaning to your story beyond what you can imagine!
Key Job Responsibilities
Cleans entrances, corridors, stairwells and elevator's in assigned buildings and recognizes and corrects any housekeeping inconsistencies that affect appearance and cleanliness on a daily basis.
Cleaning of floors to include: sweeping, dust mopping, mopping, stripping and waxing, polishing, and scrubbing. Ensures proper signage is being used when conducting floor care. Signage must be visible from all angles to cover a 360 degree radius in common areas. Extracts and maintains corridor carpets on a frequent basis in assigned buildings and follows proper procedures. 
Cleans all aspects of assigned buildings and reports any projects needed to be done to the Manager of Housekeeping Services. Conducts thorough cleaning of windows and tracks and uses appropriate chemicals needed to give the best cleaning results.
Prioritizes tasks and efficiently executes tasks in a timely manner. Responds with urgency to accommodate any resident or staff requests in regards to housekeeping emergencies (ie. water leaks, etc.). Displays team oriented, "can do" attitude and is willing to help where needed on any given day.
Uses personal protective equipment when conducting expanded cleanings, floor care and use of chemicals. Follows checklists and instructions given by Manager of Housekeeping Services.
Qualifications:
• Minimum 8th grade education.
• Must be able to verbally communicate in English.
• Professional janitorial experience strongly preferred.
Work Hours:
8 hour work shift, Monday–Friday, 2:00PM-10:30PM
About us:
Fleet Landing is consistently rated one of the best continuing care retirement communities (CCRCs) in Florida, integrity and passion drive us to be extraordinary. Since our beginnings in 1990, our dynamic and purpose-driven community has become a place where excellence abounds. No one offers a senior living community quite like Fleet Landing. From pristine campus to luxury healthcare environments to extraordinary dining experiences, our commitment to excellence in hospitality is found in every detail.
There's nothing we won't do to support the successful aging of our residents. Our Employees also deserve the best! We treat every team member with that same level of respect and offer meaningful work, enriching community and a competitive salary.
Make Fleet Landing Continuing Care Retirement Community in Atlantic Beach, Florida the next chapter in your career story. Apply Today for consideration.
We are an Equal Opportunity Employer.
85244379