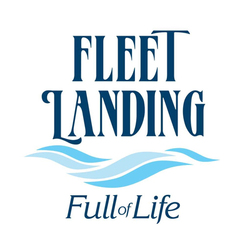 Registered Nurse - Charge Nurse
Sorry, this job has expired.
Jacksonville, FL
Make Fleet Landing Continuing Care Retirement Community in Atlantic Beach, Florida the next chapter in your story!

We have an incredible career opportunity for a Registered Nurse with at least one year of management experience (for example, Head Nurse, Charge Nurse, Unit Manager).

Our Story:
Consistently rated one of the best continuing care retirement communities (CCRCs) in Florida, integrity and passion drive us to be extraordinary. Since our beginnings in 1990, our dynamic and purpose-driven community has become a place where excellence abounds. No one offers a senior living community quite like Fleet Landing. From pristine campus to luxury healthcare environments, to extraordinary dining experiences, our commitment to excellence in hospitality is found in every detail. There's nothing we won't do to support the successful aging of those who live here.

"Fleet Landing Supported Living" currently has over 140 healthcare beds including a post-acute unit, long-term care, assisted living, and memory care. Our latest expansion, Beacon Pointe at Fleet Landing, will bring 128 new Independent Living Residences including 30 new skilled nursing beds, and 38 new assisted living to our thriving community!

Your Opportunity:
We are seeking an experienced RN Unit Manager to take responsibility for the organization, clinical and managerial leadership of a long term care nursing unit as assigned by the Director of Nursing. Accountable for quality care implemented in compliance with legal mandates and under the guidelines of the policies and procedures of Fleet Landing for the Health Center.

WELLInspired™ Benefits:
Our residents deserve the best, and so do you. We offer generous benefits in addition to meaningful work, enriching community and a competitive salary. Full-time benefits include a generous 401k match, 90% of medical premium costs employer paid, uncapped PTO accrual from day 1, and extraordinary scholarship and continuing education opportunities.

Learn more about us here:


• Graduate of an accredited school of nursing, currently licensed in the state of practice and meets all requirements for applicable state regulatory agencies. Current CPR certification.

• Current valid RN license to practice in the state of Florida.
• One to three+ years of nursing experience.
• Progressive nursing experience with one+ year administrative, supervisory, management experience.
• Senior Care / Geriatric nursing experience preferred.

· Assist in developing methods for coordinating nursing services with other Resident services to ensure the continuity of the Residents' total regimen of care.
· Ensure all Health Center staff is following their respective job descriptions.
· Perform administrative duties such as completing medical forms, reports, evaluations, studies, charting, etc.
· Ensure reference material (i.e. PDR's, Federal and State Regulations, etc.,) maintained at the nurses' stations are current. Recommend written material that will assist nursing staff to meet the day-to-day needs of the Residents.
· Participate in the development, maintenance and implementation of Fleet Landing's quality assurance program for nursing services.
· Assist the Director in planning the nursing services portion of the Resident's discharge plan as necessary.
· Participate in inspections made by authorized government agencies.
· Make written and oral reports and recommendations to the Director as necessary, concerning the operation of the Health Center.

We are an Equal Opportunity Employer.

We invite you to make Fleet Landing the next chapter in your story — and give your life new meaning.

Apply today and tell us why Fleet Landing is where you want to write the next chapter in your life!

18578